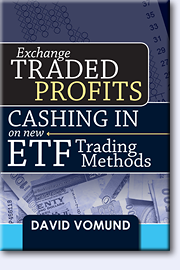 Book Reviews
---
Any investor can profit from understanding the principles of relative strength investing that David Vomund lays out in Exchange Traded Profits.
Mike Moody, CMT
SVP, Senior Portfolio Manager
Dorsey, Wright Money Management
---
Exchange Traded Profits: Cashing in on New ETF Trading Methods is timely and valuable approach to trading and investing with ETFs. David writes with a reader-friendly style that makes it easy to understand his systems and methodologies. His mechanical trading models are clear and to-the-point. He also gives great explanations of leveraged and inverse leveraged funds, chart patterns, portfolio management, and much more. I highly recommend Exchange-Traded Profits, and I am certain it will help ETF traders and investors profit from these funds in the future.
Toni Turner, author
A Beginner's Guide to Day Trading Online, 2nd Edition
A Beginner's Guide to Short-Term Trading, 2nd Edition
Short-Term Trading in the New Stock Market
---