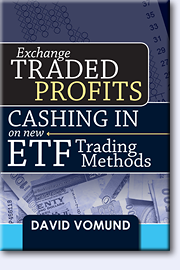 Analysis
This section provides up-to-date analysis data that is provided for the benefit of those who have already read our book.
Click to Download Our Latest Analysis
The ETF Analysis document is updated and posted to this site each weekend. Style index, sector, and country ETFs are ranked on their relative price performance. This ranking is similar to that shown in the book. This data is used in David Vomund's managed account program, www.VomundInvestments.com.
ETF Related Links




Money Management
Let David Vomund use his expert techniques to boost your returns using ETFs