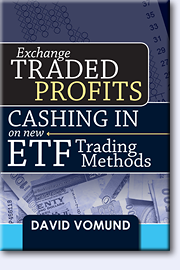 About The Book
Exchange Traded Profits: Cashing in on new ETF Trading Methods, covers the lessons that should have been learned from the recent bear markets and details analysis techniques that overcome these flawed theories.  Specifically:
Diversification is overrated.  We highlight the flaw in having a diversified portfolio and demonstrate how portfolio concentration is a better option.


Buying and holding the S&P 500 is not the best option.  By making just one or two trades a month, a portfolio can greatly outperform a buy-and-hold strategy.


Sector investing is highly effective, but there are periods when all sectors go down.  In order to have a market independent portfolio, inverse funds must be utilized.
In this book David Vomund uses these lessons learned to create simple but highly effective strategies for trading ETFs.  Fully mechanical strategies are presented on style, sector, and market segment ETFs.  Inverse funds are included.  The book also covers chart pattern reading, market timing, and portfolio management. 
About The Authors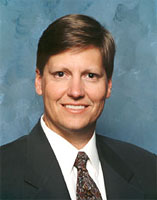 David Vomund is the president of Vomund Investment Management, an investment advisory company that specializes in managing exchange-traded fund (ETF) portfolios. While other advisory firms are just now discovering ETFs, Vomund's firm has an exceptional eight-year track record of ETF trading.
David also publishes VIS Alert.com, a weekly newsletter that covers market timing, ETF rotation, and stock selection.
David's analysis has appeared in Investor's Business Daily and Seeking Alpha. He was the featured interview in the October 1999 issue of Technical Analysis of Stocks & Commodities magazine.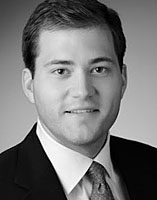 Andrew Hart writes an appendix for Exchange Traded Profits on ETF option strategies. 
Andrew is the lead ETF analyst and portfolio manager at BigTrends.com. Andrew's trade methodology focuses on technical analysis using multiple time frames. In most cases, Andrew prefers options as his trading vehicle to maximize return on investment. He manages the day-to-day operations of ETF trades and his work appears in many financial outlets.

Today, Andrew is focused on the opportunity and flexibility that active investing and short-term trading offers. He enjoys his work because it gives him the opportunity to teach others how to trade to achieve their financial goals.